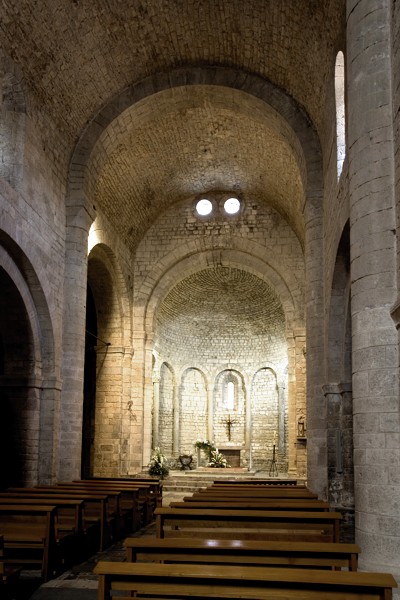 © Bob Masters
The Monastery or House of Canons of Santa Maria de Vilabertran, the best preserved of medieval origin in Catalonia, was built around a central cloister during the 12th and 13th centuries. Its origins trace back to a community of twelve cloistered clerics of the Order of Saint Augustine established in 1069.
The church of Santa Maria, documented for the first time in 975 and consecrated in 1100, reveals the transition of building styles of the eleventh and twelfth centuries. In 1295, King James II married Blanche of Anjou, a union that had significant influence on Europe by ending the war between France, the papacy and the Catalan-Aragonese crown.
Furthermore, the temple preserves, on the transept's left side, the main treasure of medieval Catalan metalwork: The Cruz de Vilabertran, dating from the 14th century. Its oak wood was covered with silver encrusted with enamels and precious stones, Roman cameos, reliquaries and a rich sacred iconography of Gothic style.
Between the XV and XVIII centuries, the monastery suffered important periods of decline, with looting and plundering that led to the loss of important works from the library and bureau. Currently, the Government of Catalonia's Department of Culture is in charge of the landmark, which has been the main venue of the Schubertiade Vilabertran since 1993.

Getting there