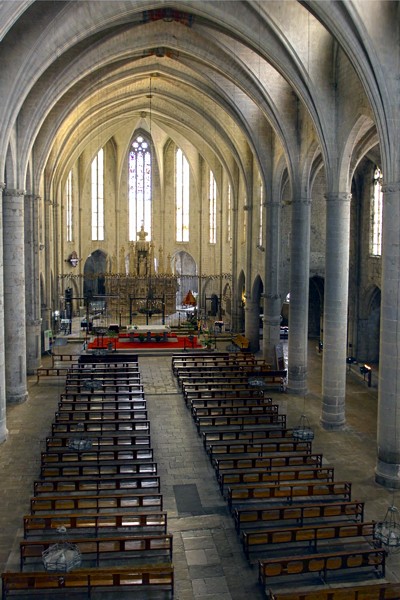 Santa Maria de Castelló d'Empúries is a Gothic church located in the centre of Castelló, in the Alt Empordà region. Built over a primitive Romanesque church, of which some vestiges remain, it is a clear example of the Catalan Gothic floor plan.
Construction of the complex began in 1261; its architectural structure completed in the early fifteenth century, when the marble façade and the main altar's alabaster altarpiece (one of the foremost pieces of Gothic sculpture in Catalonia) were carved. Its interior was expanded during the seventeenth and eighteenth centuries.
During the Great War (1793-95), French troops used the temple as a barracks, destroying various elements of the interior, such as the choir and the organ (built, according to a document dated 1494, by master Pere Granyera). They were later reconstructed (the current organ dates from the early nineteenth century), but were damaged once more during the Spanish Civil War (1936-39). The current organ was built starting in 1803 by Domènech Cavaillé and his father, Joan Pere Cavaillé, from Llenguadoc. It was finished in 1854 by Gaietà Vilardebó and restored by Gerhard Grenzig between 1976 and 1981. The Direcció General d'Arquitectura promoted a comprehensive restoration of the complex circa 1963, leaving the temple in its current condition.

Getting there